Nasopharyngeal Cancer Market Size, Share, Trend, Epidemiology & Market Forecast to 2030
DelveInsight's "Nasopharyngeal Cancer Market Insights, Epidemiology, and Market Forecast 2030" report delivers an in-depth understanding of the Nasopharyngeal Cancer, historical and forecasted epidemiology as well as the Nasopharyngeal Cancer market trends in the United States, EU5 (Germany, Spain, Italy, France, and United Kingdom) and Japan.
Nasopharyngeal Cancer is a type of head and neck cancer that affects the part of the throat connecting the back of the nose to the back of the mouth (nasopharynx). It should not be confused with other types of cancer that also affect the throat, such as laryngeal cancer and oesophageal cancer.
Most of the nasopharyngeal cancers are nasopharyngeal carcinoma (NPC). There are mainly three types of NPC. They all start from epithelial cells that line the nasopharynx, but the cells of each type look different under a microscope. Three types include non-keratinizing undifferentiated carcinoma, non-keratinizing differentiated carcinoma, keratinizing squamous cell carcinoma.
The symptoms of nasopharyngeal cancer are often difficult to recognize because the symptoms are similar to other, less serious conditions. Also, many people with nasopharyngeal cancer don't have any symptoms until cancer reaches an advanced stage. The exact cause of nasopharyngeal cancer is unknown, but a number of factors can increase your risk of developing the condition which includes being of south Chinese or north African descent, having a diet very high in salt-cured meats and fish, being exposed to the Epstein-Barr virus (EBV).
The Nasopharyngeal Cancer market report covers emerging drugs, current treatment practices, Nasopharyngeal Cancer market share of the individual therapies, current and forecasted Nasopharyngeal Cancer Market Size from 2017 to 2030 segmented by seven major markets. The report also provides detailed current Nasopharyngeal Cancer treatment practice/algorithm, market drivers, market barriers and unmet medical needs to curate best of the opportunities and assesses the underlying potential of the market.
Nasopharyngeal Cancer Market Key Facts
According to the National Health Services (NHS), men are affected about 3 times more than women by nasopharyngeal cancer.

According to the American Cancer Society, about half of the people with nasopharyngeal cancer in the United States are younger than 55 years old and the average age at diagnosis is about 50.
As per the data by Globocan, approximately 129,079 people were affected by nasopharynx cancer across the Globe in 2018, and approximately 60,558 cases were of China in 2018.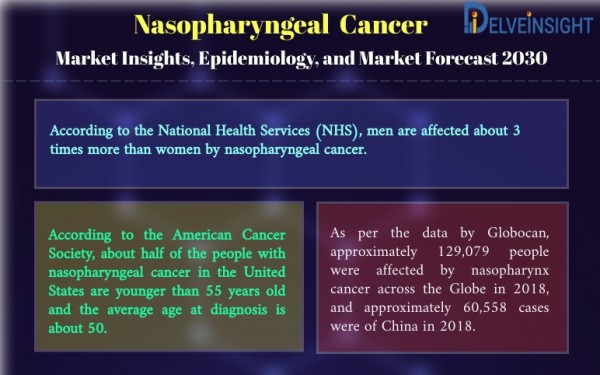 Visit For Sample Pages:
https://www.delveinsight.com/sample-request/nasopharyngeal-cancer-market
Key Benefits of Nasopharyngeal Cancer Market Report
Nasopharyngeal Cancer market report provides an in-depth analysis of Nasopharyngeal Cancer Market Size, Share, Trend, Epidemiology and Market Forecast till 2030, in 7 major market i.e. EU5 (Germany, Italy, Spain, France and the UK), Japan, and the United States.
The Nasopharyngeal Cancer market report will help in developing business strategies by understanding the Nasopharyngeal Cancer Market trends & developments, key players and future market competition that will shape and drive the Nasopharyngeal Cancer market in the upcoming years.
The Nasopharyngeal Cancer market report covers Nasopharyngeal Cancer current treatment practices, emerging drugs, market share of the individual therapies in 7 MM.
The report provides a detailed assessment of the Nasopharyngeal Cancer market in terms of market drivers & barriers, Unmet Needs, market opportunities, patient population, comparative analysis of pipeline products with detailed clinical profiles, and other factors.
The Nasopharyngeal Cancer market outlook section of the report helps to build the detailed comprehension of the historic, current and forecasted Nasopharyngeal Cancer market trends by analyzing the impact of current therapies on the market, unmet needs, drivers and barriers and demand for better technology.
The report gives a thorough detail of Nasopharyngeal Cancer market trend of each marketed drug and late-stage pipeline therapy by evaluating their impact based on the annual cost of therapy, inclusion and exclusion criteria, mechanism of action, compliance rate, growing need of the market, increasing patient pool, covered patient segment, expected launch year, competition with other therapies, brand value, their impact on the market and view of the key opinion leaders.
Nasopharyngeal Cancer Epidemiology
The Nasopharyngeal Cancer epidemiology section covers insights about historical and current Nasopharyngeal Cancer patient pool and forecasted trends for every seven major countries (i.e. the United States, EU5 countries (Germany, Spain, Italy, France, and the United Kingdom), and Japan from 2017 to 2030.
It helps to recognize the causes of current and forecasted trends by exploring numerous studies and views of key opinion leaders. The epidemiology section also provides the diagnosed patient pool and their trends along with assumptions undertaken.
Nasopharyngeal Cancer Drugs Uptake and Key Market Players
The Nasopharyngeal Cancer Drugs Uptake section focuses on the rate of uptake of the potential drugs recently launched in the Nasopharyngeal Cancer market or expected to get launched in the market during the study period. The analysis covers Nasopharyngeal Cancer market uptake by drugs; patient uptake by therapies; and sales of each drug.
Drugs Uptake section helps in understanding the drugs with the most rapid uptake, reasons behind the maximal use of new drugs and allow the comparison of the drugs on the basis of market share and size which again will be useful in investigating factors important in market uptake and in making financial and regulatory decisions. Notable products that are currently in late clinical development of Nasopharyngeal Cancers market include TT10 (Tessa Therapeutics), Tislelizumab (BeiGene), Sintilimab (Innovent Biologics) and others.
Some of the key players in the therapeutic market of Nasopharyngeal Cancers at a global level include Tessa Therapeutics, BeiGene, Innovent Biologics (Suzhou), Novartis Pharmaceuticals, Jiangsu HengRui, Harbour BioMed and others.
Table of Contents
1. Key Insights
2. Executive Summary
3. Nasopharyngeal Cancer Competitive Intelligence Analysis
4. Nasopharyngeal Cancer Market Overview at a Glance
5. Nasopharyngeal Cancer Disease Background and Overview
6. Nasopharyngeal Cancer Patient Journey
7. Nasopharyngeal Cancer Epidemiology and Patient Population
8. Nasopharyngeal Cancer Treatment Algorithm, Current Treatment, and Medical Practices
9. Nasopharyngeal Cancer Unmet Needs
10. Key Endpoints of Nasopharyngeal Cancer Treatment
11. Nasopharyngeal Cancer Marketed Products
12. Nasopharyngeal Cancer Emerging Therapies
13. Nasopharyngeal Cancer Seven Major Market Analysis
14. Attribute Analysis
15. Nasopharyngeal Cancer Market Outlook (7 major markets)
16. Nasopharyngeal Cancer Access and Reimbursement Overview
17. KOL Views on the Nasopharyngeal Cancer Market.
18. Nasopharyngeal Cancer Market Drivers
19. Nasopharyngeal Cancer Market Barriers
20. Appendix
21. DelveInsight Capabilities
22. Disclaimer
About DelveInsight
DelveInsight is a leading Business Consultant, and Market Research Firm focused exclusively on life sciences. It supports pharma companies by providing end to end comprehensive solutions to improve their performance.
Media Contact
Company Name: DelveInsight Business Research LLP
Contact Person: Anuj Rawat
Email: Send Email
Phone: +919650213330
Address:304 S. Jones Blvd #2432
City: Albany
State: New York
Country: United States
Website: https://www.delveinsight.com/