Erika Mejia, The Queen of Roses surprises Maluma in her welcome to Miami
A few days ago and during the coronavirus quarantine in Colombia, the artist Maluma had shared photos and videos showing him in Colombia on social media. However, it was recently known that he left his native country to fly to Miami, which sparked strong controversy on social media.
The queen of the roses, Erika Mejía was in charge of making an arrangement to give a warm welcome to the city of Miami to the Colombian artist by his family. Taking into account that he has already worked for other world-class artists in other opportunities such as Anuel AA, Karol G, Demi Lovato, Camila Cabello, among others.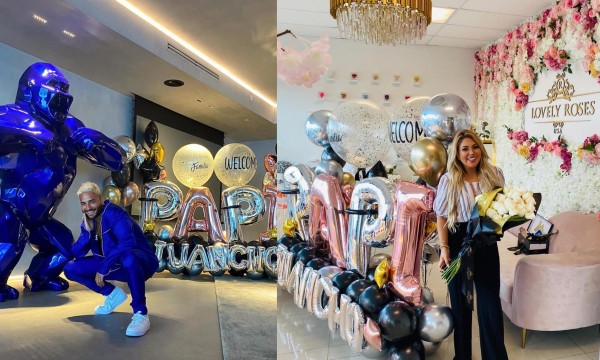 Who is Erika Mejía?
The art of roses that the Honduran woman has been developing through her company Lovely Roses, has not only made her deserve a privileged status in the world of Latin entertainment in the United States, she has also established herself as one of the most trained and current professionals. It is recognized for its striking arrangements and its innovative technique of chemical preservation of roses with an average duration of 3 years, maintaining an impeccable appearance, as from the first day guaranteeing the consumer a quality and luxury product.
Mejía is called in the world of artists, the queen of roses, and the delicacy of her designs is perfectly linked with her personal image and her way of addressing herself in the media; Her social networks, like her flowers, are a work of art in full swing, which has been motivating and encouraging thousands of young people to fulfill their dreams and to translate into reality what they are considering, Erika Mejía affirms: "I want the people who follow me have a millionaire mind and I'm not just talking about money, I want people to be millionaires in health, in dreams, in work, in perseverance, in discipline and perseverance, as we understand that the millionaire mind lies in aligning our soul, feelings and spirit in accordance with the consolidation of a very clear goal, the results that lead us to our goal will be positive and the path taken will be the correct one."
What has been the key to success for The Queen of Roses?
With a lot of ingenuity in his head and dedication in his hands, he has managed to make deals with great celebrities of international stature and now offers virtual and face-to-face courses: "I will personally guide the participants to learn the Lovely Roses concept of arrangements in natural and preserved roses , as well as many other issues," said Mejía, who has done work for Thalía, Pitbull, Demi Lovato, Camila Cabello and Luis Fonsi, and was even an accomplice to Annuel to make a surprise for Karol G.
The specific idea of ​​Lovely Roses is to create art with 100% natural and preserved floral arrangements. For this, it takes a lot of practice, dedication and consistency in the details and requirements of customers.
Erika has captured the attention of the interpreter's millions of followers, songs like "Cuatro Babys" and "Felices los cuatro", little by little and with a lot of effort she has gained influence in more and more select circles of artists, she has been working for major events such as Premios Lo Nuestro, Nuestra Belleza Latina and Premios Juventud, rising like foam this entrepreneur will continue to give something to talk about.
Media Contact
Company Name: M2 Studios
Contact Person: Media Relations
Email: Send Email
City: Miami
State: Florida
Country: United States
Website: http://www.m2studios.net/