HB TempCon in CIIE – Intelligent Protection of Life for Shared Future
Global high-quality ecological resources gather to upgrade the aviation temperature control service capacity
On November 7, Haier Biomedical held a strategic signing and launch ceremony themed on "Intelligent Protection of Life for Shared Future" for the global aviation temperature control industry ecological platform at the 5th China International Import Expo (CIIE). During the ceremony,HB TempCon Aviation, a holding subsidiary engaging in aviation temperature control businesses of Haier Biomedical, reached strategic cooperation with numerous industry giants, such as CEVA Logistics, J&T International, and Aviage Systems. Based on the strategic partnership, the multiple parties will focus on service capability and technology guarantee and work together in the global airline network, operation sites, technology research and development, joint marketing, and several other aspects through complementary advantages and resources sharing to co-create a global aviation temperature control industry ecological platform.
The global aviation temperature control logistics market is now in strong demand and enjoys broad prospects for development. How to provide users with a superior service experience has become the common goal of all parties in the industry chain. Bringing together first-class world leading airlines, logistics service providers, equipment and technology suppliers, and other high-quality resources in the industry, the global aviation temperature control industry ecological platform will help all parties to break the industry boundaries, improve ecological synergy advantages, and promote the efficient integrative development of technologies,products, and services.
The platform will also inject new vitality into the global aviation temperature control industry and further promote the same to accelerate towards a stage of high-quality development.
With the continuous improvement of people's spending power and health awareness in recent years, the market demands for high-value temperature-sensitive supplies, such as medical supplies, biological agents, and fresh perishable goods, have grown rapidly. Aviation cold chain logistics has entered the fast track of development as a mode of transportation with improved delivery timeliness and safety. The "14th Five-Year Plan" Aviation Logistics Development Special Plan has proposed that CAAC will initially build up a safe, intelligent, efficient, and green aviation logistics system by 2025.
In this context, it is imperative and of the right timing to create a professional, reliable, and open ecological service platform where all stakeholders can work together, exchange with each other, and share resources by integrating the upstream and downstream ecological forces of the aviation temperature control industry so as to form a strong synergy effect and promote the green and high-quality development of the aviation temperature control technologies, products, and services.
As one of the world's largest supply chain management companies, CEVA Logistics provides and operates industry-leading logistics solutions for large or medium size companies both in China and overseas. With incomparable competitiveness in international freight, ground freight, integrated logistics management, advanced information technology, and other fields, the company has set up a global network covering more than 170 countries and more than 1,300 sites. J&T International Logistics is a world-leading international comprehensive logistics service provider. It delivers various integrated logistics solutions to 86 countries and regions worldwide, including Asia, Europe, Africa, and the Americas and offers multiple transportation methods, including air, sea, and ground shipping. Both the two companies have rich experience and perfect network channels in the field of air freight.
HB TempCon Aviation, a holding subsidiary of Haier Biomedical, owns the core technologies and products related to aviation temperature control. Through such strong cooperation, HB TempCon Aviation, together with CEVA Logistics and J&T International, will give full play to their complementary advantages. By providing users with high-quality services featuring higher cost performance, higher safety and reliability, and more accurate temperature control effects, they can meet users' diversified needs and evolve the original service model of aviation temperature control logistics.
Wu Jun, the Vice President of Business Development for CEVA Logistics Greater China, said that CEVA Logistics would serve the vast number of Chinese customers with its expertise and capabilities in the pharmaceutical cold chain field and integrate all links, including container leasing, return, transportation and monitoring, on one platform by combining Haier Biomedical's cold chain containers with CEVA's global air freight services to make customers more rest assured. He added, "We will work together with all industry parties on the global aviation temperature control industry ecological platform built by Haier Biomedical to co-create a more resilient and sustainable supply chain in the future and contribute to the patients and all parties serving the patients in the ecosystem."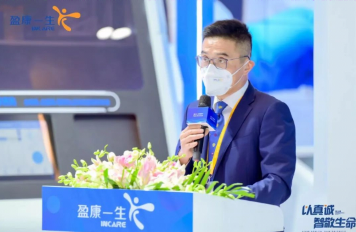 Zhou Qingping, J&T International China Director, said that, based on its global logistics network advantages, J&T International would make all transportation links controllable through technology and digitalization so as to co-create a global aviation temperature control industry ecological platform, as well as standardized high-end temperature control logistics products, hoping to provide global customers with intelligent, safe, and efficient full-link logistics services and promoting the development of the global aviation temperature control industry.
Technology and ecosystem are combined to promote the green and smart upgrading of aviation temperature control services
High-quality aviation temperature control logistics services are impossible without professional aviation temperature control technology solutions. As a world-leading civil avionics system solution provider, Aviage Systems has been engaging in the R&D and design of integrated modular avionics systems for many years and have a deep, rich and full understanding experience within the sector. Concerning green and low-carbon technologies and product research and development, HB TempCon Aviation will team up with Aviage Systems to promote the intelligent upgrade of high-end aviation temperature control equipment through technology and talent exchange, experience sharing, and other industry leading pathways.
Zhou Zhenyu, Sales Director of Aviage Systems, said that relying on the company's strong technical and market advantages in the field of avionics and air freight, Aviage Systems would join hands with HB TempCon Aviation to accelerate the digital and intelligent upgrade of the aviation temperature control containers so as to better meet the high-end needs of global users, create a new situation for the localized innovation of the global aviation temperature control industry, and make transport of cold chain products and resources safe for all flights.
In the opinion of Li Junfeng, General Manager of Haier Biomedical Sample Network Business Division, the launch of the global aviation temperature control industry ecological platform will build more competitive aviation temperature control service capabilities from multiple dimensions, including technologies, products, talents, and market, promote the high-quality development of the global aviation temperature control industry, and deliver more diversified aviation temperature control solutions to protect life and health.
Targeting the rapidly growing market demands and adhering to the vision and mission of "green temperature control and intelligent protection of life", HB TempCon Aviation has developed active temperature-controlled containers by conducting independent innovation and tackling the technical problems concerning refrigeration systems and temperature control systems. Compared with similar products in the industry, the active temperature-controlled containers have significantly improved time of endurance, which has been extended by about 50%, and temperature uniformity. Up to now, HB TempCon Aviation has built up a mature business model and a full-chain aviation temperature control transport service ecosystem covering pharmaceutical enterprises, airlines, freight forwarder companies, airports, cargo terminals, MROs, etc., which is the first long-distance temperature-controlled transportation ecological platform covering the whole world in the Asia-Pacific region. In the future, the company will continue to accelerate the construction and layout of the airline network, operation network, and maintenance network to radiate the whole world.
For now, HB TempCon Aviation has set up a maintenance network that covers key domestic cities such as Beijing, Shanghai, Guangzhou, and Shenzhen, as well as international regions such as Europe, North America, and the Asia Pacific region. It has reached cooperation with several airlines, including China Southern Airlines Logistics, China Eastern Airlines Logistics, and Russian Airbridge Cargo Airlines, and established business relations with hundreds of freight forwarders, pharmaceutical factories, and chemical enterprises. Not long ago, HB TempCon Aviation launched the "Beijing-Guangzhou", "Shanghai-Taipei" and "Shanghai, China – Frankfurt, Germany" routes for aviation temperature containers successively.
Speaking of the future R&D layout, Mr. Meng Zhigang, General Manager of HB TempCon Aviation, said that the company would accelerate the development of active temperature-controlled containers based on the active temperature control technology, build a whole-process visual data platform, and establish and improve an operation network covering the main regions of the world through continuous cooperation with the global high-quality resources. In doing this, the company strives to bring users a better aviation temperature control experience featuring higher reliability, higher safety, and higher stability and continuously inject new momentum into the global aviation temperature control industry with advanced technical solutions to make life better.
Original Source: https://www.haiermedical.com/news/HB-TempCon-in-CIIE.html
Media Contact
Company Name: Haier Biomedical
Email: Send Email
Phone: +86-532-88935593
Country: China
Website: https://www.haiermedical.com/