Manny Khoshbin Announces Date for the Millionaire Mastermind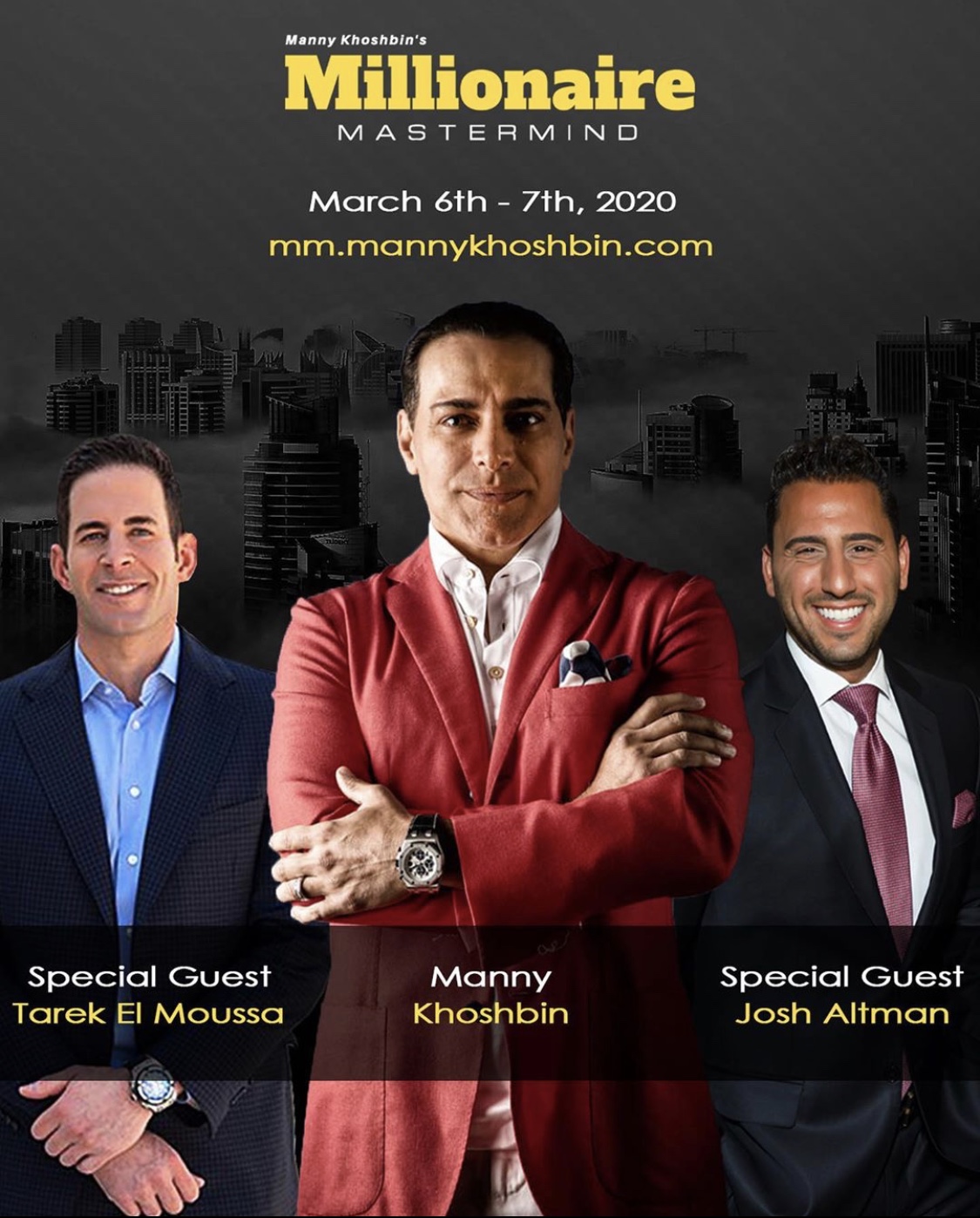 The 2-day event is designed to teach its students everything they should know about successfully building a real estate fortune.
Irvine, California – Real estate mogul, Manny Khoshbin, has announced the Millionaire Mastermind event would take place on the 6th and 7th of March, 2020.
The intense 2-day in person training would be limited to just 35 persons, and would feature a 1 year access to private FB Group, an opportunity to co-invest on deals, an opportunity to network with other high level entrepreneurs, and other VIP experiences
Manny will be teaching his strategies, templates, and systems of how he has personally created his wealth through real estate. Capped at 35 people with an application process, this event is very exclusive, so you know you're networking with people who have real credibility and bring lots of value.
Manny will also be offering 1 on 1 coaching hour with him where he can personally help you and your business. He will also be opening up some deals where you can co-invest without doing any of the legwork yourself. You will also tour Manny's private car collection worth over $30 million with some of the most exclusive cars in the world.
The Millionaire Mastermind has numerous amazing reviews from former students.
According to one Nicholas Kusmich, "Manny didn't hold anything back. When you know the things and people in place it takes [real estate] from being difficult to super simple and easy."
Another former student, CEO of the Camp Transformation Center, Sam Bakhtiar said "I always wanted to get into the real estate game but was totally clueless. When I met Manny he gave me an exact checklist and blueprint in what to look for in any deal. Anybody can implement his system and be successful.
Guest speakers on the day will be Josh Altman of 'Million Dollar Listings', and Tarek El Moussa of 'Flip or Flop'. They would share how they've built their real estate empire and sold billions collectively.
For more information, kindly go online to https://www.instagram.com/p/B8UUiMgFkVq/?utm_source=ig_web_copy_link
Media Contact
Contact Person: Manny Khosbin
Email: Send Email
Country: United States
Website: https://www.mm.mannykhoshbin.com/